Cody Conagher
Gunsmith
Home Of The
"Cody-Matic"
The Only Generation You Need to Know
SPECIALS
GOOD THRU July 23, 2023
Action Jobs
*All work is guaranteed*
There is a 2-week turnaround on most action jobs
Convert your 45 colt 1873 to 45 ACP
For Wild bunch so you can run the same ammo
in your 1911 and 1873 $590 plus shipping
Hours
Mon - Fri From High Noon to 7:00 PM EST
Phone 304-258-1419
Address
12040 Valley Rd.
Berkeley Springs, WV 25411

SASS 6986 Life, SASS Territorial Governor Of The Year 2009, Regulator


Specializing In Cowboy Shooting Firearms
Colt, Ruger, Uberti, Navy Arms, Cimarron,
EMF, American Western Arms, Taylor's,
Marlin, Winchester, Remington
and all copies
Action Jobs, Repairs, Tuning, Point Of Aim Adjustments
---

New Mod Model 1873 20 inch straight stock, checkered grip and forearm
with choice of front sites and SASS compliant "Cody-Matic" action job - $1,578 plus shipping



Model 1873 straight stock rifles - 20" and my new 18" (Taylor's Exclusive) model -
with choice of front sites and SASS compliant "Cody-Matic" action job - $1,538 plus shipping

Half Round / Half Octagon Barrel, Straight Stock - $1,573 plus shipping



Model 1873 pistol grip deluxe rifles - 20" and my new 18" (Taylor's Exclusive) model -
with choice of front sites and SASS compliant "Cody-Matic" action job - $1,638 plus shipping

Half Round / Half Octagon Barrel, Pistol Grip Stock - $1,673 plus shipping



Taking orders for Taylor's 2007 SASS Product of the year, the
"SMOKE WAGON DELUXE" pistol, Designed and FULLY TUNED by Cody Conagher - $698




COWBOY MOUNTED SHOOTING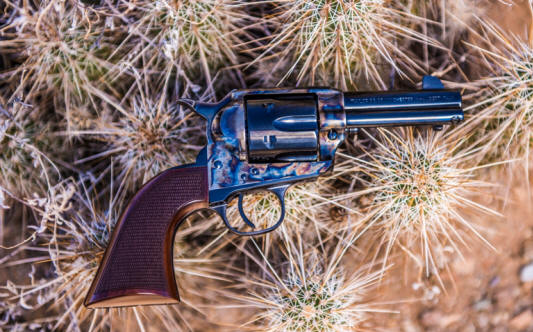 Taylor's & Company - Runnin Iron SAA 45Colt
Competition Tuned
$753 Blued and $853 Stainless
&
Taylor's & Company -1873 Runnin Iron Comanchero Rifle 45 Colt
Straight Stock Carbine 16 1/8" Barrel w/Butt Cover
Competition Tuned
$1,668
---
"Cody-Matic" Custom Action Jobs

1866 and 1873 Rifles - $350 plus shipping


Model 1897 Shotgun - $275 plus shipping


1894 Marlin Cowboy Rifles - $275 plus shipping


Single Action Pistol - starting at $145 plus shipping


Tune 1911 - polish all parts and feed ramp, tune springs
and set trigger to crisp 2 1/3 to 3 lbs $150



Double barrel shotguns - polish the chambers- $275 plus shipping


Convert your 45 colt 1873 to 45 ACP For Wild bunch so you can run the
same ammo in your 1911 and 73 $590 plus shipping

*All work is guaranteed*
There is a 2-week turnaround on most action jobs

---
The Cowboy Shop is the home of the SHORT STROKE 1873
Developed By
Lone Dude and Cody Conagher
"Jot your serial number down because,
when you get your firearm back,
you'll swear it is a different gun!"
---


Hey Cody, just wanted to let you know I got the rifle and tried it out and it is AMAZING!! Guys at the gun store were impressed as well. It was a real pleasure to shoot and everything from the trigger to working the action was flawless. And most amazing, it worked without a hiccup. I've had a pistol worked up by Bob Munden before and it was slick, but didn't function without some hiccups. You did a wonderful job and I would recommend you to anyone. Jacob Davidson. - Kentucky


Cody, the rifle arrived and I got to tell you just how impressed I am. I've been shooting with an 1866 from Uberti for a few years now and as an engineer, I thought I had it slicked up just right. However, after taking the 1873 you just sold me to the range, I can say without a doubt that you perform some pretty strong magic on these historic rifles. The trigger is a crisp 3 lbs pull with virtually no creep whatsoever. The short-stroke kit and light-weight follower make this rifle run as smooth as any lever action rifle I've ever come across. I spend a few hours this afternoon feeding my new 1873 with a variety of different loads from light-weight 96 grain .38 Special's to standard 158 grain .357 Magnum's without a single misfeed or jam. Factory loads from Black Hills, Ten-X, and Fiocchi ran perfectly as did all of the reloads I put through it. You have my sincere thanks and an open invitation to come visit Texas when you get tired of the cold and snow. Colonel Ben Terry, Fort Bend County, Texas


I just wanted to take a minute to let you know how much we love the '73 that you fixed up for my sons (Texas Ranger Trent Kilkenny and Marshal Matt Dillon). We picked it up and went straight to the Defend Old Fort Parker Shoot before we ever put the first piece of lead down the barrel. Thanks for going the extra mile to get the rifle tuned and to us so we could make this shoot. The rifle worked like magic. The action is slick as glass and the '73 worked flawlessly. It is a beautiful and awesome rifle!! Marshal Matt Dillon took first place in Young Guns and Texas Ranger Trent Kilkenny took fourth place in Cowboy against some heavy shooters thanks to the '73. This '73 will be the first of many to come. At least two more because it is hard to get it from the one that just shot it.
Thanks to a Great Gunsmith and Cowboy "Texas Ranger Chick Bowdrie" - SASS 90712 - Texas


Hello Cody,
Just wanted to say "Thank You" for working on my rifle and adding the tang sight. The action on the rifle is awesome, and I really like the way it feels with the stock cut down. You absolutely live up to all the testimonials and praise that I have heard about your work, and your customer service.
I received it on Friday, and I am putting a check in the mail to you Monday morning.
Thanks again for everything, James Hill aka Slingshot


I just wanted to drop a line thanking you for an excellent product. I am loving my 1873 Trapper. It is truly a beautiful piece of work. 2 days after I picked it up I went straight into our annual match. Besides working flawlessly for the entire match it was also much admired by other cowboys and cowgirls. Thanks again for a job extremely well done. It was well worth the wait. Winchester Jack SASS # 70195

If anyone is looking for an 1873 Winchester clone for speed and accuracy, look no further. You have found the best in the business. A good friend of mine told me about the Cody-Matic and how people rave about them. I was a little skeptical at first until I received my rifle from Cody and was amazed by its' craftsmanship. Plus, she is a beaut' to boot.
I was even more amazed when I finally got a chance to fire it. The last lever gun I owned, it jammed the first time and every time after that. But not the Cody-Matic. It fires smooth and clean with no problems at all. I am very satisfied with the rifle and would highly recommended anyone seriously into cowboy shooting to get one of Cody's guns!!! Thanks Cody, your are a true master of you craft.
Sincerely, George of Santa Rosa, CA , AKA "Paganini Kid" SASS # 76176

Everyone who has handled my '73 Trapper "Cody-Matic" 'LOVES' it. The 'short-stroke' action is so smooth, and the rifle just seems like an extension of your arm when aiming and firing. At one point I, (foolishly), loaned it to my Spouse, (Darlin Dave), while his was at 'The Gunsmith's' and had to pry it out of his hands, (unloaded, of course), when his was ready. There were a few tears shed by 'all parties involved'....my tears, because I finally had my 'baby' back and DD because he had 'bonded' too deeply with my '73!
The former Awful Aim Annie who is now Ima Lotatrubl aka Reggie Grothe


Howdy Cody,
Well I can say is WOW you have worked on three pair of Colts and numerous rifles and all of them have been nothing short of great, smooth as butter
and worked flawlessly, again my hat is off too you, keep up the great work.
Thanks, Steve Patton AKA Kiowa Kid - Colorado




OH MY GAWD! You blew me out of the water with the high quality work my shotgun and my and Annie's rifles, but I have NEVER felt anything as smooth as these pistols I just got back from you today. They are incredible! Thank you for getting them back to me so fast; I can't wait to shoot them in the first match of the year on Sunday at Roanoke Rifle and Revolver. Again, thank you so much. They are smokin'!
Bill Barnette, AKA Devil Bill - Virginia

I just wanted to drop you a note to say thank you ever so much for the most outstanding rifle I have ever had the pleasure to shoot!!! Your workmanship is second to none and I have shot allot of rifles in my day. I have a yellow boy that should be coming in soon that I would like to send you for an action job if possible. Thank You again sir and Happy Thanksgiving to you and your family. Tony Montana

Cody, just a quick note to say thanks for a great rifle and a new adventure in playing the game . I have been shooting for 3 seasons so far and was rather happy how I advanced . This year I just wasn't making any progress if anything it seemed the harder I tried to go faster with my 92 the worse things went wrong many shooters told me it was time to start looking for a 73, so I did, and I'm sure you know what I found, there where pioneers and the folks with the Indians then link kits and links with levers not to mention a host of different generations .
So I went back and started talking to the shooters it wasn't long before I was up to speed on what to look for, the questions in the debate always seemed to be
same . How did the stroke compare to a Cody - Matic, Was it as Smooth as a Cody - Matic, Was it as Reliable as a Cody - Matic . It became very clear that the rifles you build were the Benchmark for comparison .
Now I've been around high end hobbies long enough to know that when a certain product sets itself apart from the others and actually becomes the benchmark you simply buy the benchmark and never look back .
That's what I did, the gun is a pleasure to shoot, never missed a beat and has advanced me in the game further than I had thought the simple addition of a new gun could . As far as comparison goes, the last match I shot with it upon returning to the unloading table a couple a guys where there cycling my rifle and guess what they wanted to know, who did the action work .
Thanks a ton Cody.
Coal Stoves - SASS # 66574 - N.E. Pennsylvania

Hey pard, just wanted to take a little time and tell ya how much I really like my new 73 you did up for me. As you know I've been shootin a C&I short link gun for a couple of years, several told me I'd better stay with one of them instead of going to a Cody-Matic, well here's what I got ta say about that DIDDLYSQUAT. I've never shot a rifle as smoooooooth as a Cody-Matic. The brass block in that Taylors rifle will sit right there and cluck like a steady old hen on a nest! I'm tellin ya boy ye got a gift when it comes ta workin on gunz. The second match I shot the rifle in was the Mason Dixon Stampede and well lets just say it held up its end. I don't care how fast everybody says their so & so kit is, nor do I care how much the stroke measures. The rifle I got from you is a hand tuned weapon that works flawless. Every time I've called on it, it has been there for me, and I thank ya a lot. You are a pard ta ride to tha river with. Hope ta see you soon.
"Red River Ray" - North Carolina


I first met Cody Conagher in April 2001 when my Dad (Pa Antrim) and I traveled from AUSTRALIA to experience our first End Of Trail. In spite of a troublesome Marlin (which had the bad habit of ejecting the odd live round - 3 at EOT 2001), I managed to finish 6th Overall. The point of mentioning this is that Cody suggested I have a look at his rifle, a 73 Cody-Matic. From the moment I handled the rifle I knew I had to have one!

Given the fact that I live in Australia, the logistics of getting an action job done on a rifle that I didn't even own yet would prove to be a challenge. Cody assured me that he and his wonderful wife "Lena Ockley" would do whatever they could to help me to achieve my goal of owning a Cody-Matic.

Once we were back home in Australia, several attempts were made by my Dad, Cody and Lena to purchase a rifle in the States, do the action job and have it sent to me. However, due to various firearms restrictions in both Australia and the USA it soon became obvious that this was not going to work. Finally, we all worked out a solution. Cody would purchase a rifle in the States, strip the internal parts from it and carry out the modifications on those parts and send them to me. I would purchase the same model 73 in Australia and send the same parts back to Cody to replace those that he would work on for my rifle. ALTHOUGH FINE IN PRINCIPAL, YOU CAN IMAGINE THAT FOR CODY NOT TO HAVE THE ACTUAL RIFLE TO WORK ON AND FIT THE PARTS TO MAY PROVE DIFFICULT!
The parts arrived together with a home video made by Cody and Lena showing instructions on how to fit the parts and make certain adjustments to make it all work. TO MINE AND MY DAD'S AMAZEMENT, THE PARTS "JUST FELL INTO PLACE", THE ADJUSTMENTS WERE MADE AND THE RIFLE WORKED PERFECTLY. In fact, I have handled many 73's in Australia and in America and I reckon mine is the slickest of them all. The rifle is totally reliable and has never let me down, it is a dream to shoot -SUCH IS THE SKILL AND QUALITY OF WORKMANSHIP OF CODY CONAGHER.
"Patrick McCarty" - AUSTRALIA
2007 World Champion Traditional & 3rd Overall
2002 World Speed Rifle Champion, 2nd Traditional & 2nd Overall
2001 World 2 person Family Team Champion (with Dad)


Cody, we have three different 73 border rifles, fine tuned by you (Cody-Matic's), Chantelley Lace (two time NV State Women's overall Champion), "Early Dawn" (EOT top 10 category winner several years) and "Madd Mike" (two time NV Men's overall State Champion) wish to say that we absolutely love em. Thanks


Dear Cody, my son and I both use your action jobs. My son, Badlands Drifter, first started with an 1866 Yellow Boy with a Cody job. Since January 2007, he has changed to your Taylor's made Cody-Madic1873 special with the 18.5 in. barrel. We quickly learned that he was actually faster than his 1866 would allow him to be. Since he started using your 1873 I stand back as a proud father and watch the show. He's holding his own with some of the fastest shooters I've ever seen. Point in fact, 2007 Florida State Last Stand video. Sometimes he leaves me with my mouth hanging open and tears in my eyes. Numerous shooters have asked how he is he able to work his rifle that fast. I simply tell them he has the best gun that the market can offer and the best gun smith in the country.
Yours Truly,
"Wigley Down Yonder & Badlands Drifter"


Dear Cody, I'm the guy who bought your rifle at Winter Range. I just wanted to tell you it's far and away the best rifle I ever owned. Not only is it pretty, it's fast, accurate, and completely reliable. I'm kicking ass with the thing at my local matches. You had said that all I had to do was to get part of the bead on the target and it was a hit. Boy, is that ever true! I'm really glad I happened to stop by the tent that day. I also appreciate the fact that you sold me your personal rifle—well, I guess your wife did. You are one hell of a gunsmith.
"Big Dave" aka David Harrison - Colorado

I met Cody a few years ago and have always heard good things about his gun work, but now I know first hand. I got my "Cody-Matic" trapper in 38 a few weeks ago and fell in love for the second time in my life. It is an awesome rifle!! Cody went the extra mile and cut the stock down for me and it fits like a glove. Thanks Cody for all your work and>en more confident on the range. Cody's work is like magic, the action is slick and the rifle works like a charm. I am excited about shooting this season with it and could not ask for it to be any better.
Thanks so much!!!!
"Kill-em-all Kate", North Carolina - SASS # 45804



I started shooting a Cody-Matic 73 in 2002; I have gone from shooting in the middle of the pack to as high as 6th out of 88. I shoot Classic Cowboy, so in a class that you shoot duelist and a hammer double and my Cody-Matic Conagher model in 38-40. Which if you have been around this sport for more than a minute you know that your only chance to catch a 97 shotgun, two handed pistol shooter is to do it with rifle; That is where the Cody-Matic comes in, there is non smoother or more reliable. This rifle will keep you in the hunt if you are really into the competition or if you just like shooting the best tuned the gun on the market you need look no further.
I shoot the Conagher model that is a 24" pistol grip deluxe cut to 22" with a black powder crown; I like the extra 2" over the Border deluxe to keep the front sight bounce down when I get a little excited.
I do not own a gun that has not been tuned or made exactly to my liking, by Cody. That is every shotgun, pistol and the six Cody-Matic's I have owned. I sold two due to a caliber change for my wife and me, and by the way, Colts are not the only gun that hold there value or appreciate. WHY? Aside from being the SMOOTHEST most Reliable rifle in the sport, if Cody tuned it he will fix it. If you wish to see what UNCONDITIONAL guarantee looks like buy a Cody-Matic and in the unlikely event something goes wrong, you will find out how Cody stands behind his work. That is even if YOU find a way to wear it out or break it, he will fix it
The only generation you need to worry about is how many generations of your family you will pass your rifle on to. I have noticed Grand Ma is harder to get the rifle away from than Grand Pa. Boy, am I looking forward to the new Taylor's "Conagher Smoke Wagon" pistols!
"Bull Shoals", PA. - SASS Life 25400

I have two stock Ruger Vaqueros in 45 calibers and have trouble cocking the hammers and adjusting to the recoil due to recent shoulder and hand surgery. Being a Cowboy Action shooter for more than 8 years, I was doubting if I would ever be able to compete again at our local SASS club. I heard about Cody from a shooter at our club and decided to invest and chance that the two 45s would accommodate my physical disability. WOW!, I was surprised when I got them back no later than 1 week after sending them to Cody. They are smooth as silk with a hammer cocking sound like a perfectly tuned watch. The hammers are a joy to operate and the action is flawless and now with a lighter 185 grain bullet, I'm back on the "cowboy trail". Thanks Cody for your fine gun smithing.

"Chigger"
Culloden, West Virginia - SASS 32776


Cody, I just wanted to take a minute to let you know how much I love the action job on the 73 that I won at the VA State Championship. I finally had the pleasure to shoot it and I am AMAZED. Only thing about it though....it kinda reminds me of a saying that my pop used to say, related to me using this rifle: "Kinda like putting a $50 saddle on a $5 horse!" Oh well, guess that gives me an excuse to try to get better, huh. I also want to thank you for supporting the raffle by throwing in the action job. Our game will continue to grow and become better and better as long as we can keep Cowboys like you around!
Thank you again,
"Mad Dog Irv" - Roanoke, Virginia
SASS # 45805


Cody is not only a friend, but one of the best gunsmiths our sport has to offer. I consider him the subject matter expert when it comes to the 73. He has been involved from the start of the short stroke mods. He understands what can be done with out creating problems for the shooter. I shoot one of Cody's guns. Its extremely smooth and I've never had a problem with it. Cody is the kind of man that stands behind his word and his work. If you want to see how his work feels. Stop me next time you see me.
"Handlebar Doc" - Texas


Cody, your original Cody-Matic is the best rifle I have. And I have about five others now. I have had great success with your action work and when I let my friends test it out they don't want to give it back to me.
Tim Thibert aka "Lawbreaker" - Kent, WA

As a Cowboy Action Shooter, I choose Cody Conagher's action work on my lever rifles.
I favor the smooth feel of the lever travel of the Cody-Matic versus harder working mechanics of some of the other, shorter stroke versions on the market. I especially like the dedicated features on the Billy Boots Model such a 24" barrel cut to 19" with a special "black powder" crown, trigger stop, ivory front bead, flattened rear sight, and more. As a retailer, the majority of our new 73/66's go from our Uberti importer, Cimarron Firearms, to Cody before delivery to our business. I'm convinced that it is just good business to offer the buyer an out-the-door ready, competition rifle in the "Cody-Matic package". And, the rifles pretty well sell themselves when offered in this manner. Generally, a few strokes of the lever to feel that smooth action and the customer is hooked.
Bill Buckman, aka "Billy Boots", Buckman's Inc. - Texas.




Cody, I should have sent this weeks ago. The '73 I got from you is excellent and beautiful. I can't say I'm used to it yet but, it is smooth as silk.
Thanks again,
TH Hubler aka "M'bogo" - Jeffersonville, IN


Cody, thanks for talking me into using a '73. The action you made is smooth and functions flawlessly, something I really need! Along with the '73 and my, glass smooth, Codyized Colts, I am in Cowboy heaven.
Thanks to your super slick 73's, I have the NH/VT top 49er, Top Modern and Top Senior in 2005, 2006 and 2007, 2nd place Senior at the NE Regional and the Maryland State Top Senior in 2007. I know I owe much of it to my Cody-Matic!
"Chuckaroo" - Ijamsville, MD.


Cody builds the smoothest, most reliable 1873 rifle action job, on the planet today. Each rifle is built personally by Cody to assure consistency and quality every time.
"Diamond Jim Bandy" - Nevada


Hey Cody, Dingo and I both love our 73's that you ordered and did action jobs on. Milling out the barrel on mine really did make it almost as light as my Marlin. We would not trade them for anything. Both sets of my Ruger Vaquero's, that you did action jobs, on are just as sweet. I am not sure which pair I like better. Thanks for doing such a great job on our guns. See you and Lena on the range.
Take care,
"Sixgun Sallie" & "Dingo Dave" - Palm City, FL


"I first met Cody 5 years ago at the Maryland State shoot -Thunder Valley Days. He was running the speed rifle side match. My brand new '73 wouldn't run and kept throwing out rounds. Cody immediately knew what was wrong and without being asked took the gun home with him. In addition to all the things he had to do, he fixed the gun that night and wouldn't take a dime. When I got it back I couldn't believe how well it ran. In 5 years Cody has literally built 2 dozen rifles and pistols for my self and my wife. Not only does he do a great job on '73's but he's tuned my USFA's and my wife's Colts. When he gets done the guns are completely smooth, perfectly timed and absolutely reliable. Most of the people we shoot with are shooting his guns. In fact if Cody hasn't worked on it we won't shoot it! His turnaround time can't be beat either.
"English Bev & Flat Iron" - New York, NY


Cody,
I remember the first lever gun I purchased. It was a used Marlin that you had slicked up and resold. I also remember the first time I worked this lever. It felt incredibly smooth. After several matches, I was able to work the lever without moving my hand, only finger effort was needed. Then while attending a shoot in Denegal, PA, I ordered one of the first '73 Border Rifles and you customized it for me. ($650 - time flies doesn't it?) I recall the first time I shot this rifle in a match. The lever worked with 1 and 1/4 pounds of effort. Needless to say, it only required one finger to lever the gun with the hammer down. At times, it actually was too smooth and I got a little ahead of my brain.
I am not currently involved in the wonderful sport of Cowboy Action Shooting, but I still use the guns once in a while. Every time I show the rifle to one of my friends, they cannot believe what a competent gunsmith can accomplish. Are you planning on any gun smithing other than Cowboy type work?
Just wanted to say Hello and Welcome you to West Virginia.
"Imposter" - West by God, Virginia


I met Cody shortly after I joined SASS in 2000. I was there when he invented the Cody-Matic. I have three. He did my Colts. He did my OM Vaqueros. Best of all, he did my three screws. You have to wonder how they set off a primer but they have not failed me. Glass trigger. Effortless actions.

I have enjoyed some success in cowboy and I sincerely believe I can attribute some of the success to expertly prepared guns.
His unquestionable integrity combined with his skills has provided me with confidence in all four weapons. I know he stands behind his work. I know he will do what he says. There are hundreds of us who will swear to it.
"Red Cent" - North Carolina (2007 World Champion Silver Senior!)




My association with Don Jones a.k.a. Cody Conagher began shortly after I began shooting CAS. Like many others I looked for the cheapest and easiest ways to get my guns tuned and like many others I made lots of mistakes. The one decision I made that definitely was not a mistake was to purchase a set of used Ruger Vaqueros from Cody. He tuned them and set them up with ½ cock hammers. These pistols were and still are the slickest Ruger's I have ever shot and the ½ cock feature eliminated the need to cycle around the cylinder when I slipped the hammer (no more losing index). These pistols will lock up just by thumbing the hammer to ½ cock they are so smooth, and yet have enough hammer force to set off primers from about the ½ cock position. All this makes for guns that can be run much faster than I can run them.
Then, just about the time I thought I was getting pretty fast with my Marlin rifle, a new horse showed up in the corral. Several people started shooting the 1866 & 1873 rifles, including Cody Conagher, Bad Bob Brewski, and Lone Dude.
I couldn't believe how slick these rifles were and they weren't nearly as finicky about ammo as the Marlins were. I put off shelling out the money for one of these rifles for several years. Then I began to hear about a modification that Cody and Lone Dude were working on that took the slop out of the actions and made the stroke more in line with the Marlins. Still I held off, my Marlin was very slick and hardly ever presented any problems (it was a 45Colt). Then wouldn't you know it, my brother Imposter got one of Cody's Cody-Matic rifles. I had good pistols, I had a slick 97, but I was getting eaten alive when it came to my rifle. Finally I bit the bullet and purchased an 1873 and sent it to Cody. I haven't even looked back. Now I had the complete setup. All my guns were as good as I could get them. The only thing limiting my status in CAS was me and my lack of practice. Cody's workmanship has been a major factor in my success as a Cowboy Action Shooter. Just knowing my guns are as good as they can get and are totally reliable gives me the confidence to shoot to the best of my ability.
"Twin" a.k.a. Jeffrey Willis -West Virginia
SASS Regulator & Territorial Governor
2 time MD State Champion
4 time WV State Champion
Past N.E. Regional Champion




I was looking for someone to replace a braised-on, hooded front sight of a Winchester '94 with a dove tail front sight. I had spoken to several who do this type of work and had gotten various replies as to its feasibility. Totally confused, I contacted Smith N Jones of "Shoot" Magazine, as I have done in the past when something like this occurs. I trust his judgment and he has never led me astray. He suggested I contact Cody. I did and we discussed the project and I immediately trusted him. Cody even told me he would not do the work if certain tolerances weren't able to be met. I Had been considering an action/short stroke job on a '73 as well and we discussed this also. I liked what he said and off went the '73. If you have heard the expression "As good as it gets", Cody's work is the next level up. Everything was "As advertised" and more, even the part about "Writing down your serial number to assure you that you got back the same gun you sent Cody!" I did not do this, and wish I had, because the action and stroke are unbelievable. His price and turn around time were advertised as two weeks. That is what it was, to the day! I put 11 snap caps in this '73 and the first one will sill still be rolling on the ground when the 11th one is still in the air.........Simply amazing, the action is effortless. At the completion of the note, I will be boxing up a '66 to send to Cody for the same work. Thanks Cody!
"VIC SEELMAN" SASS # 4914



I shoot a Taylor's 1873 Trapper. Cody did the action work on it, I have found it to be very easy to shoot. The action is very, very smooth. It has also has been very reliable. I have a lot of confidence with the rifle and I am very happy with the rifle and the work that was done on it.
2004,2005 1st Place Young Guns Girl @ Mason Dixon Stampede--North East Regional
2004,2005 1st Place Young Guns Girl @Star City Shootout---VA. State Championship
2005 Ladies Top Gun Shootout Winner @ Star City Shootout---VA. State Championship
2003, 2004, 2005 1st Place Young Guns Girl @ Blue Ridge Roundup
"Gemstone Jamie" SASS 35515 - Virginia


"I got my rifle from you at Winter Range, 2003. After thousands of rounds, I haven't had any problems at all with it. Thanks for building a great rifle. "Here is a picture of my Cody-Matic rifle in action!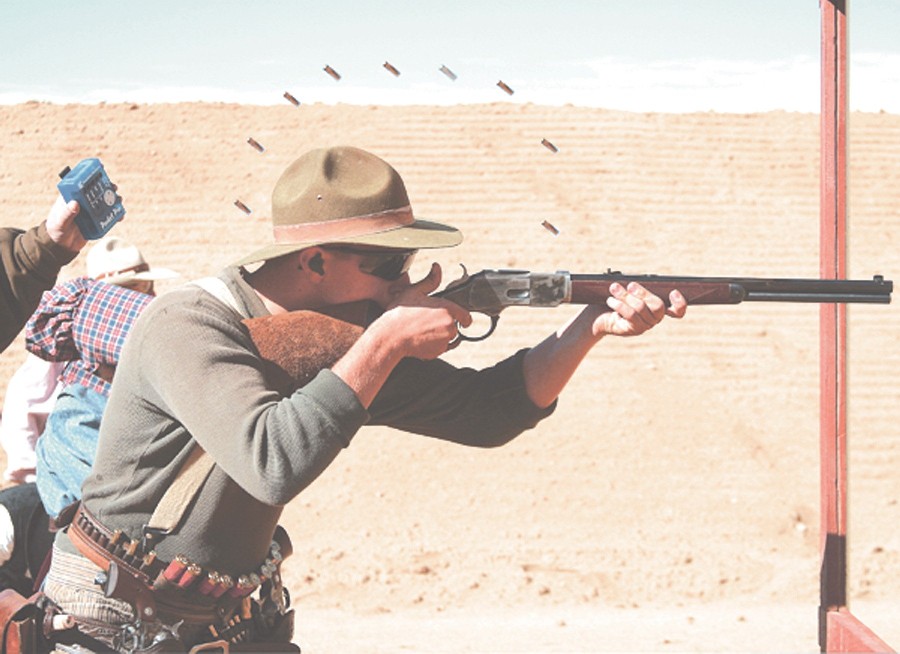 "Race Gunner", SASS # 55175 - Arizona




"Cody Conagher is an excellent gunsmith when it comes to 1873 Winchester rifles. His work is of the highest quality, and he is friendly and easy to deal with. I trust him with my own rifle, and recommend him completely to all shooters."
"Holly Terror" - Durango, CO



"Try any rifle with the best possible action work you can find, heck try every one you can get your hands on. Then, test fire a Cody-Matic '73, and the owner will have to pry the rifle out of your hands to get it back. I started shooting a '73 Cody-Matic Carbine in the summer of 2003 and the only reason I'm not still using that rifle is that I went to a '73 Cody-Matic Border Rife. Not only does Cody Conagher produce the smoothest action job available, but he also runs his business the Cowboy Way. He turns out the best product and stands behind them 100%. Since adding a Cody-Matic '73 to my main match guns I've added a few titles to my Cowboy Action accomplishments. Needless to say, the only rifle substitution for me is another Cody-Matic '73."
"Curl E. Kay" - SASS 40996 - Texas
2003, 2004, 2005, 2006 World Champion Lady Gunfighter

Howdy Cody
"I purchased the trapper 73 with your action at EOT. I live in Canada so it took awhile to get the paperwork squared away. I picked it up at the gun Centre in Buffalo NY on August 8 and brought it over the border. The next day I left for Guns of August. Too late for ATF approval.
Didn't have a posse list for GOA or I would have looked you up.
Finally got to shoot this gun and it is everything I hoped it would be. Klondike told me your action is tops and he does not lie.
My other 73's have replacement springs and short stroke kits but are generations behind the trapper.
My problem now is how to get my two other 73's to you!"
"Stoney Creek" - SASS 4952L - Canada


I LOVE MY CODY-MATIC!! I believe that my Cody-Matic has helped me become a more successful shooter.
Several of my friends have tried it and since ordered one themselves. I can't brag on it enough. I'm afraid it's going to get worn out with everybody wanting to take a turn shooting it!! I was shooting a Marlin before I bought my Cody-Matic – no comparison – smooth as silk, reliable, a real winner!! Cody is a great guy to work with. Thanks again!!
"Hey You" - SASS# 64946 Houston, TX
2006 Ladies Traditional Texas State and Southwest Regional Champion
Numerous Fastest Rifle Side Match Winner
---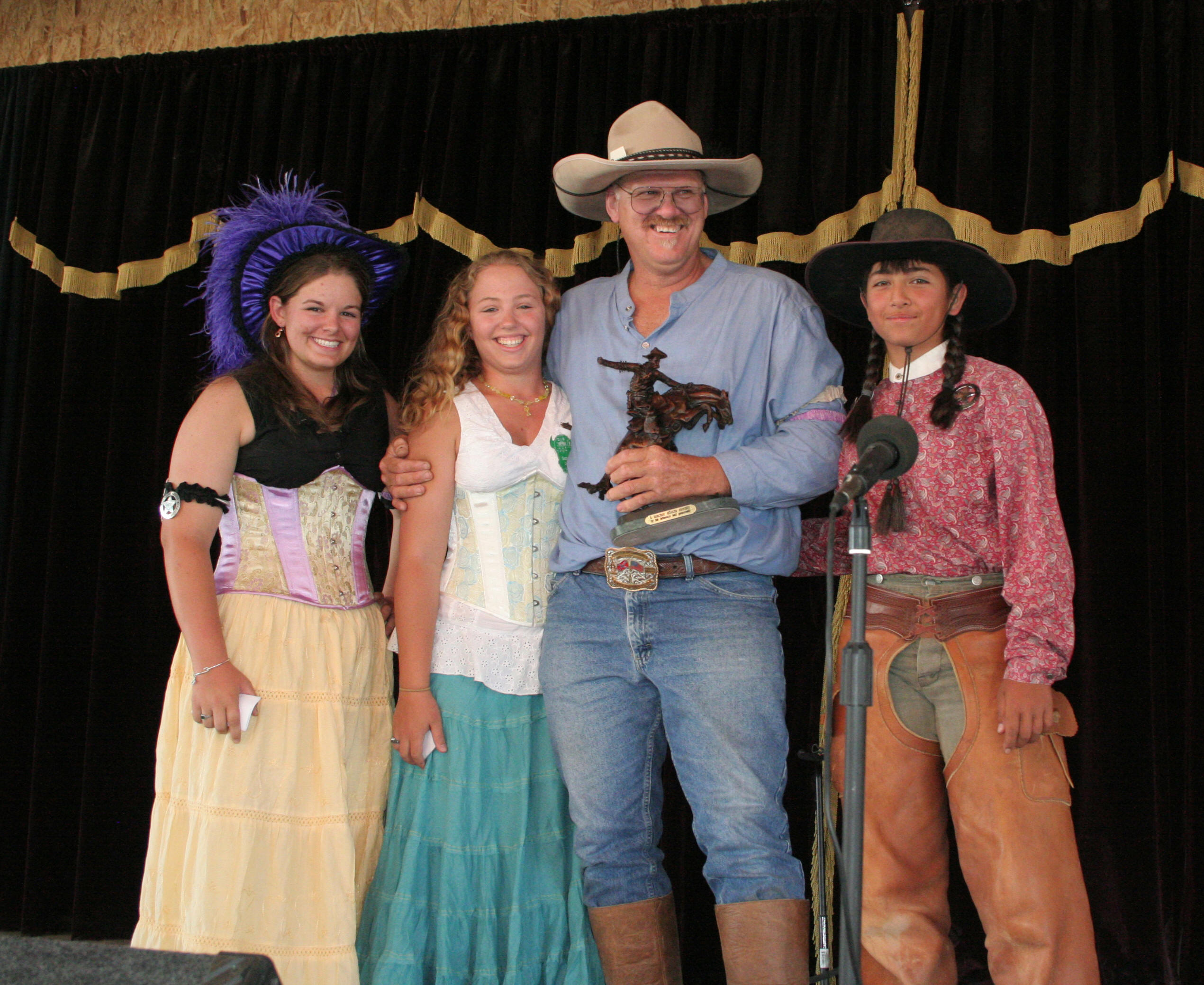 Half Pint, Gemstone Jamie and Morning Dove
Present Cody An Award At The 2008 EOT
For All of His Help & Generosity Toward Our Younger New Shooters
Local SASS Clubs



Cowboy Action Shooting Sports CASS
Berkley Springs, WV.

Dakota Badlanders
Orefield, PA.

Damascus Wildlife Rangers
Damascus, MD.

Hollidaysburg Sportsman's Club
Hollidaysburg, PA.

Jefferson Outlaws
Jefferson, PA.

Logan's Ferry Regulators
Pittsburgh, PA

Pepper Mill Creek Gang
Fredericksburg, VA.

Perry County Regulators
Ickesburg, PA.

River Junction Shootist Society
Donegal, PA.

Roanoke Rifle and Revolver Club
Roanoke, VA.

Silver Lake Bounty Hunters
Silver Lake, PA.

Thurmont Rangers
Thurmont, MD.

Virginia City Marshal's
Fairfax, VA.


Westshore Posse
New Cumberland, PA.
The Cowboy Shop is owned by Don Jones AKA Cody Conagher.
For a quote, shipping instructions or any questions,
please feel free to call or E-mail Cody
NEW E-Mail Address